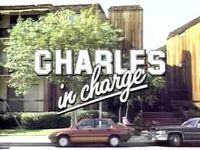 Charles in Charge is an American sitcom series which stars Scott Baio as Charles, a 19-year-old student at the fictional Copeland College in New Jersey, who worked as a live-in babysitter in exchange for room and board. Baio directed many episodes of the show, and is credited with his full name, Scott Vincent Baio.
It was first broadcast on CBS from October 3, 1984 to April 3, 1985, when it was canceled due to a struggle in the Nielsen ratings. It then had a more successful first-run syndication run from January 3, 1987 to December 22, 1990. 126 original episodes were aired in total. The show was produced by Al Burton Productions and Scholastic Productions in association with Universal Television.
The series was known by the following names.
Charles in Charge in the United States, Germany and The Netherlands
Charles s'en Charge in France, where it first aired on January 27, 1992
Charles is Basinda in Turkey
Baby Sitter in Italy
Чарльз в ответе (Charles v Otvete) in Russia
Charles je Glavni in Slovenia.
Syndication
Edit
During its first-run syndication, Charles in Charge aired on the following stations.
KUTV / Channel 2 - Salt Lake City, Utah
XETV / Channel 6 - San Diego, California
KOLO-TV / Channel 8 - Reno, Nevada
KCAL-TV / Channel 9 - Los Angeles, California
WTEN / Channel 10 - Albany, New York
KSTW / Channel 11 - Seattle, Washington
WPIX / Channel 11 - New York, New York
WZTV / Channel 17 - Nashville, Tennessee
KRLR / Channel 21 - Las Vegas, Nevada
WPTY-TV / Channel 24 - Memphis, Tennessee
WGNT / Channel 27 - Norfolk, Virginia
KAYU-TV / Channel 28 - Spokane, Washington
KMAX-TV / Channel 31 - Sacramento, California
WRLH / Channel 35 - Richmond, Virginia
WEMT / Channel 39 - Bristol, Virginia
WPMT / Channel 43 - Harrisburg, Pennsylvania
WGCL-TV|WGNX / Channel 46 - Atlanta, Georgia
WLVI / Channel 56 - Boston, Massachusetts
WGBS / Channel 57 - Philadelphia, Pennsylvania
Ad blocker interference detected!
Wikia is a free-to-use site that makes money from advertising. We have a modified experience for viewers using ad blockers

Wikia is not accessible if you've made further modifications. Remove the custom ad blocker rule(s) and the page will load as expected.