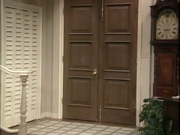 The living room of 10 Barrington Court is the first room seen when entering through the front door.
The grandfather clock in the living room is stuck at 12:00. This was used as a joke in the series finale "Charles Be DeMille". In addition, during the Pembroke season, its hands were white but in the Powell run, they were black.
Ad blocker interference detected!
Wikia is a free-to-use site that makes money from advertising. We have a modified experience for viewers using ad blockers

Wikia is not accessible if you've made further modifications. Remove the custom ad blocker rule(s) and the page will load as expected.